City Fire Hydrant Flushing - This Monday September 26th to Friday the 30th! If you see rust in your water during that time, run your garden hose until clear. Be aware before doing laundry.

UPDATE!! CHANGED PHONE NUMBER (989) 708-5229. Hunters announcement: Calhoun Campground will be extending beyond its Summer season to offer campsites for hunters through this Fall. Camper/Trailers will need to be fully self-contained as there will only be electric hook-ups (47 sites with electric) or primitive sites available. No water hook-ups and the Park's restrooms will be closed. Dump station will be open, however, no rinse water available. Prices are $25 per day or $150 per week. Please call Mayor Ray Nau at (989) 708-5229 for reservations. Summer 2022 season ends October 15th, Fall season begins October 16th. Check us out at calhouncampground.org

Election Notices: All write-in candidates for City offices must file a Declaration of Intent form with the County Clerk no later than October 28, 2022. Drop off or mail completed forms to County Clerk Karrie Hulme at the following address: Gladwin County Clerk's Office 401 West Cedar Avenue Gladwin , MI 48624 Anyone interested in working elections, please contact Beaverton City Clerk Janelle Keen at 989-435-3511 ext 3 for details.

The Draft Zoning Ordinance is available for public review and comment through October 17, 2022. Click this link
https://5il.co/1i9nx
for a digital copy or come in to City Hall for a printed version. Submit your comments or questions to
scampbell@beavertonmi.org
or mail to City of Beaverton, P.O.B 477, Beaverton 48612.

City Fire Hydrant Flushing - September 26th to the 30th. If you see rust in your water during that time, run your garden hose until clear.

Join Us this Thursday 4PM - 6PM at the Wild Pumpkin to benefit the Helping Hands Mission! Consumers Energy is sponsoring this special fundraiser for our community. Please bring donations with you to the Wild Pumpkin at 5799 Beaverton Road. There will free entry, doughnut, and cider!

Riverside Drive Residents Open Meeting: Discussion regarding proposed sewer and water projects and annexation into the City. This is an opportunity for residents to ask our city manager, city assessor, city attorney and other staff questions about your neighborhood concerns. Call (989) 435-3511 or email
scampbell@beavertonmi.org
for more information. Meeting will be held at Beaverton City Hall, 128 Saginaw St. beginning at 5PM on Tuesday, Sept 13th.

Reminder: Zoning Board of Appeals meeting will take place Wednesday, August 31st from 6:00PM - 6:30PM for consideration of variances on the new Water Treatment Plant and the proposed Farmers Market Pavilion. The Planning Commission will also meet Wednesday immediately after the ZBA. The meeting will include consideration of Special Land Use permits for new Water Treatment Plant at Leo Ross Park and Farmers Market Pavilion at Ross Lake Park. The Commission will also review the new draft Zoning Ordinance. Both meetings are open to the public. Public comments are welcomed at the beginning of each meeting.

Notice : storm debris. Our City DPW workers are on the lookout for downed trees and branches from recent storms. Our crew will pick up brush and limbs that are cut into 6 foot or shorter lengths and stacked parallel with the street. They will be using 'claw arm' equipment rather than the wood chipper for this process.

Veterans Dinner at Riverwalk Place. Join us for a free dinner for you and a guest to thank you for your service. August 25th, 2022 at 5:00PM at 777 Cedar Ave, Gladwin. RSVP for this event by 8-17-2022 at (989)426-4891 or email to
event@gladwinveterans.com
This event paid for by the County Veterans Service Fund Grant. See the info flyer here:
https://5il.co/1fyun

Sage Township will be hosting a cooling center at the Sage Township Hall, 1831 Pratt Lake Road, Tuesday June 21st, from noon to 6PM.

A special shout out to all the wonderful folks who volunteered their time, talent and tools on Saturday, June 4th, for Downtown Flower Planting Day. We had a great turn out of local families, clubs, schools, growers and more that made the job go really well - our fastest finish ever! Thanks to Mayor Ray Nau for taking the lead on this annual event. Our local historian, Bob Frei, took lots of pictures - check them out her -
https://bit.ly/3tBNVps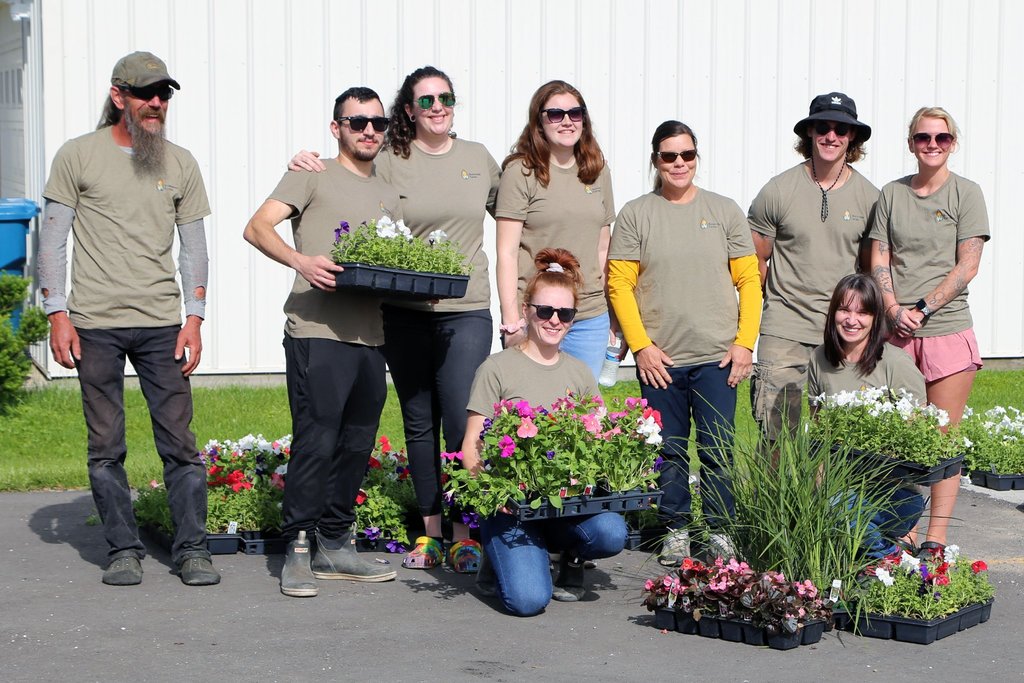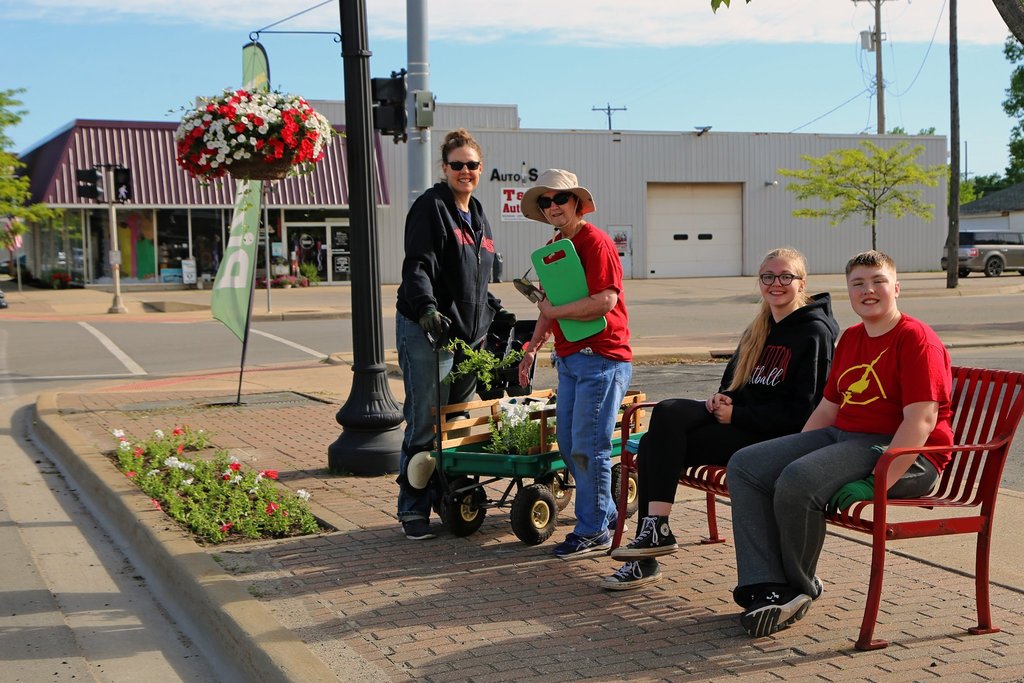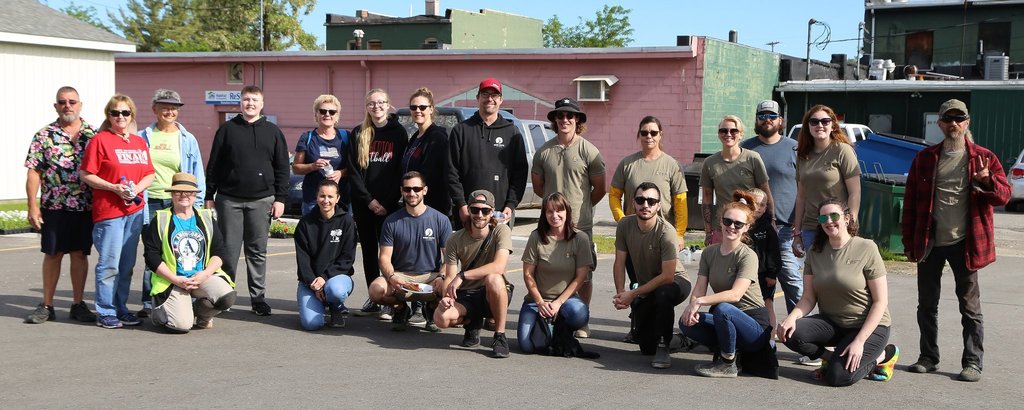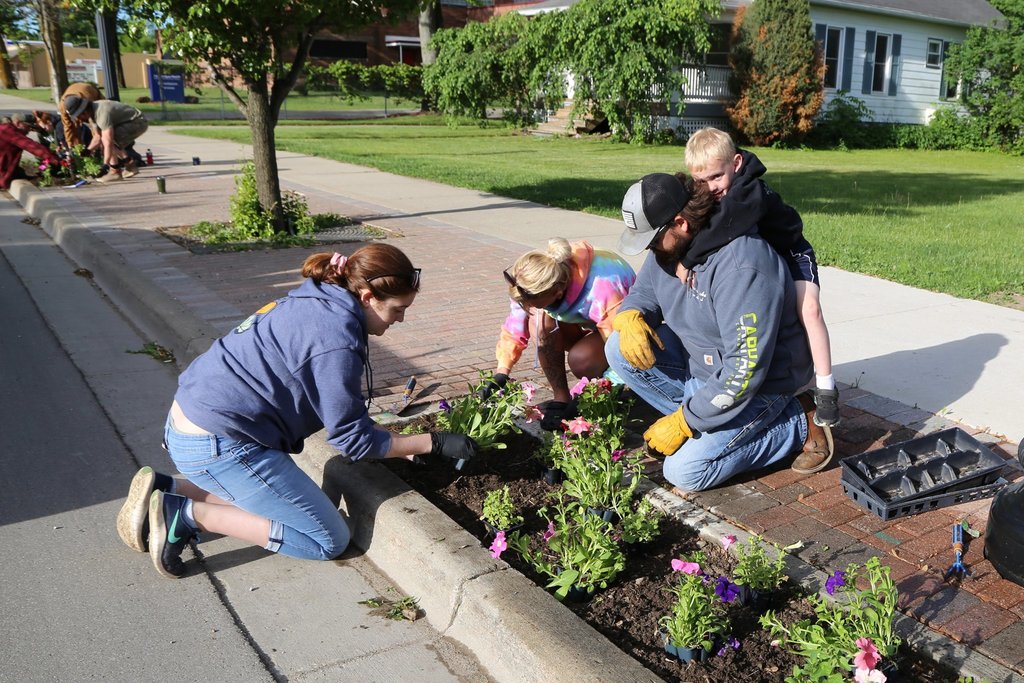 The Beaverton Farmers Market begins on June 23rd! Every Thursday from 3 - 7 PM Vendors are wanted - please contact Hanah May Ghaith 810-493-4459 or Beth Overfield 989-387-7093 if you are interested. Support local!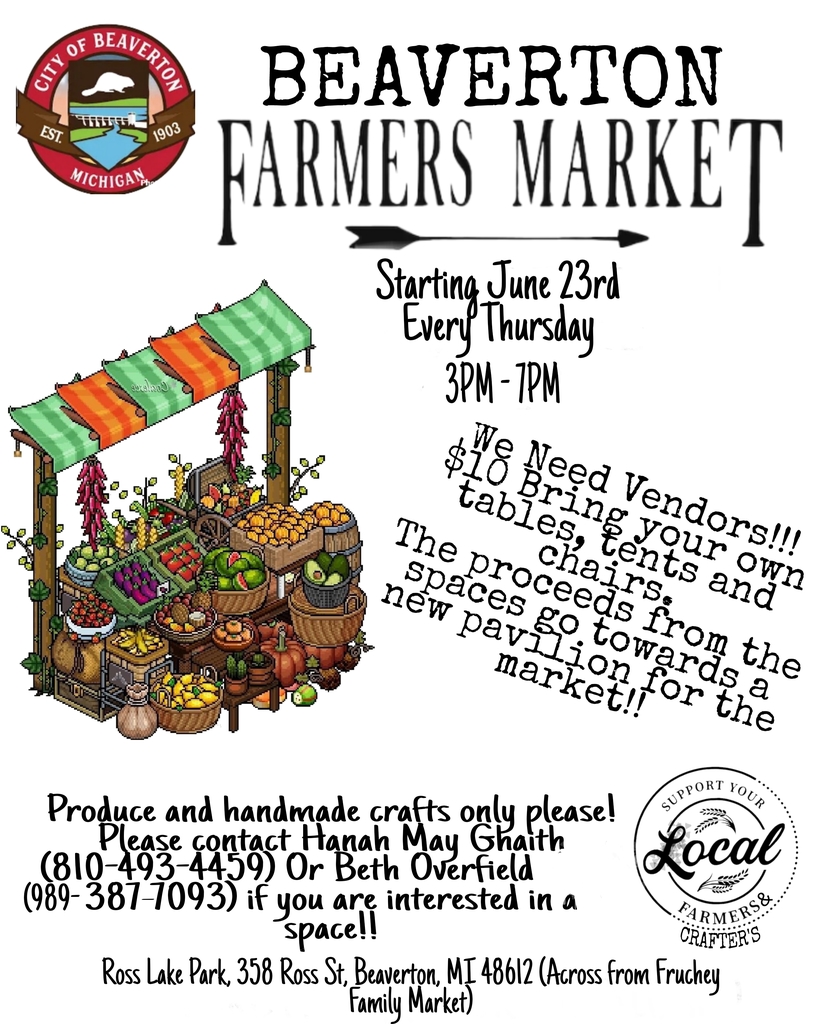 You're invited to our Downtown Flower Planting Day tomorrow, June 4th. Bring your favorite garden gloves, hand trowel and kneeling pads for a fun morning filling our sidewalk flower pots and curbside beds with color!

5th Annual Corn Hole Tournament sign-ups are open! Competition to be held on July 3rd as part of our 4th of July Celebrations. More information here -
https://5il.co/1bftc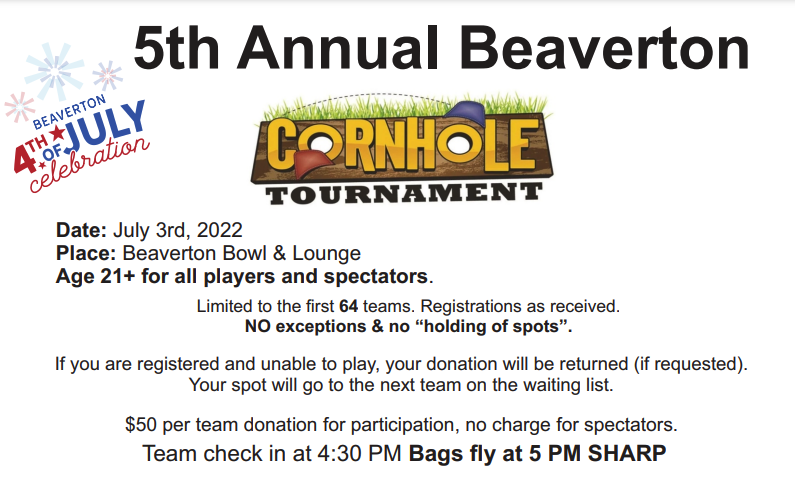 You're Invited to the Beaverton 4th of July Celebration! Check out the flyer for the full schedule. We can't wait to see you there!
https://5il.co/1bfom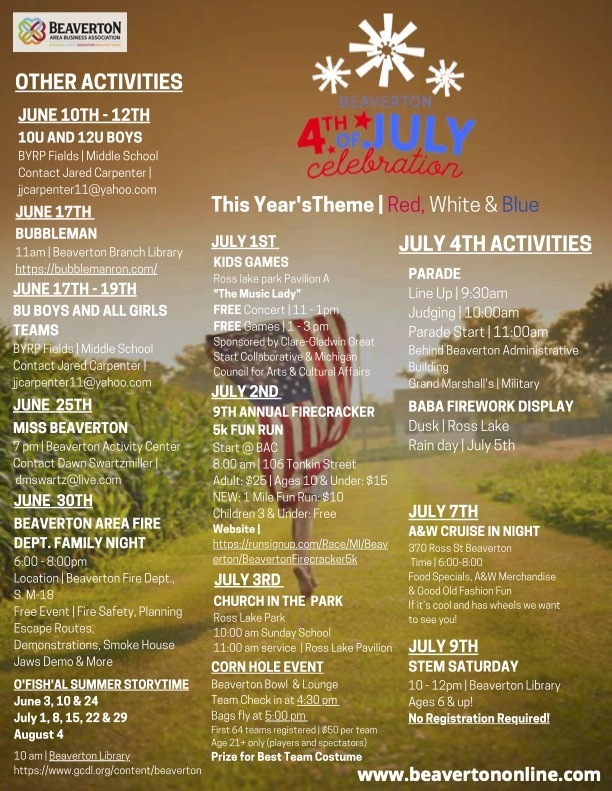 Did you or someone you know leave their jacket at the last city council meeting? It was Wednesday, May 25th. Call 989-435-3511 or stop by City Hall to claim it.

Planning Commission meeting tonight, 6-1-2022, at City Hall - 6PM. Open to the public. Continued review and update of City Zoning Ordinance.

Downtown Flower Planting Day - Saturday, June 4, 2022. Volunteers are invited to join our Mayor and local business owners for a fun day filling sidewalk containers and curbside flower beds with summer color. We will provide light refreshments and hot dogs! Meet up at 8AM at the Beaverton Hardware parking lot. Please call city hall at 989-435-3511 for more information.

The next City Council Meeting will be Wednesday, May 25th at 6PM. Located at City Hall, 128 Saginaw St, Beaverton, MI. The meeting is open to the Public and we encourage your comments and questions.